We woke Friday morning to thick overcast, gusty winds and showers in the mountains, so we took the early morning easy while we waited to see how the day would shake out. Our buddies over on
Seeker
, anchored about quarter mile away (no reason to crowd together!), got underway after the morning radio nets bound for Yadua (pronounce Yan-doo-ah). We were undecided.
Yadua is an island about fifteen miles from Bua Bay that many cruisers use as a jump off point from Vanua Levu for the west side of Viti Levu or, as Seeker planned, across a stretch of sea known as Bligh Water to the Yasawa Island Group, Fiji's westernmost strand of islands. Yadua is said to have some very nice snorkeling, which was sorely tempting, but it is also known as a place where yachts get pinned down by the winds accelerating through the 35-mile gap between Viti Levu and Vanua Levu. To get to Yadua would have been another nice brisk sail. To get back to continue our clockwise circumnavigation of Vanua Levu could be another thing altogether.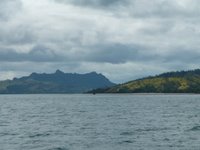 We had both courses laid in the chartplotter, but at the last minutes, prudence prevailed and we bore away on our own up the channel through the reefs around Vanua Levu's northwest corner. This brought more easy sailing with plenty of wind over absolutely flat seas. The landscape was gorgeous around a huge nob of land fisted around a mountain called Seseleka, which then opened into the rather dramatic Rukuruku Bay. Suddenly the wind shifted forward and accelerated down the valleys, giving Don quite the handful as we heeled over and close-reached through a stretch named appropriately "Wilson Patch." (I don't know who Wilson was, but wthere are several "Patches" named for him around these parts!) (Addendum: I later learned that "Wilson" is James Wilson, an early missionary explorer to Fiji...surely a relative!)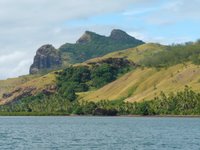 The winds dropped right off and skies cleared as we entered the channel called Monkey Face Passage. The channel gets its name from a rock formation on the top of Uluinasiva mountain. If Seseleka looks like a fist on the chart, than Uluinasiva is the cocked thumb. The rock formations on top were eye-catching from every angle, but neither of us saw a monkey's face. Perhaps it's better coming the other way?
This channel delivered us officially onto Vanua Levu's north side. Even as the sky turned blue and the clouds thinned, the landscape altered to the same grassy slopes, broken by clump of trees and magnificent rocky outcrops, that's we'd seen in our road trip to Joe & Julie's. On the port side, a very striking island named Yaqaga (I would guess pronounced Yanganga) rose up, setting the stage for a horizon filled with small islands and craggy mountain peaks.
Don steered Tackless along the line of seven beacons (nautical name for a pole with a mark on top), that kept us clear of the reef line, even as we furled the sails and engaged the engine to motor us into the teeth of a rising wind, as we pushed hard the last few miles to our planned anchorage in Naurore Bay. We rounded into it and nosed into a spot behind a small islet off Wairagia Point, getting the anchor down moments before the rain squall blew through, whiting out everything around us.

We could see the village of Navigiri (pronounced Na-ving-giri) on a saddle between the peak of Monkey Face and another humungous vertical rock bluff. We had chosen this as our first village to visit because several people had described it as an especially nice village. Although proper protocol is to go ashore promptly and introduce yourselves to the village chief, the unsettled weather and the fact we had the dinghy on deck persuaded us to wait til morning. As dusk, however, a panga with four men approached without a light. Only one spoke English and we understood they were coming from a day cutting firewood on Yaqaga Island. We apologized for not coming ashore right away, and asked them to inform the chief that we would come in to make our sevusevu (pronounced: servuservu) first thing. He reminded us of the tide issue, and suggested earlier would be better than later, an observation we would appreciate the next day. I, of course, fretted all night that we had started off on the wrong foot.
The next morning we launched the dinghy and headed for shore. Before leaving the boat we had dressed ourselves properly (no knees, no shoulders, no sunglasses, no hats!), practiced our basic spiel ("Bula! My name is Gwen. My name is Don. Could you please take us to the toranga ni koro so we can make our sevusevu."), and extracted the first bundle of yagona (kava) from the stash we purchased at the Savusavu market. Fiji fiercely protects the traditions of its people, and while visitors are welcome, proper behavior is expected. I don't think either of us has been so self-conscious in decades!
We were met on the muddy beach by the usual passel of children, only these youngsters were wielding child-sized machetes! (Eek, were we in trouble already?!) An older boy was brave enough to try his school English, and we ventured our prepared spiel in Fijian, and in no time we were led to a couple named Sara and Freddy.

Sara and Freddy, both of whom spoke confident English, were neither of them the official toranga ni koro, but they seemed to be the designated ambassadors to visiting yachties of which there have been several over the past couple of years. In fact, the first thing they did was sit us down on a mat in their house and share with us photos of their favorite yachties, who turned out to be cruisers we knew – Chris and Katie of Billabong (from our first year in the Pacific) and the Repass family of Convergence.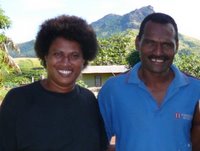 Sara and Freddie led us to the chief's house at the top of the hill. Along the way we introduced ourselves and shook hands with every adult we passed (including the toranga ni koro!). The chief's house looked little different from the others on the outside (except for a padlock on the outside of the door!), but inside he had a bookshelf with a TV, DVD player and a telephone! We slipped off our shoes and sat where directed on the woven pandanus mat, while Freddy made our introduction, a formalized speech in soft-spoken Fijian, of which I only understood the word "America." He placed our bundle of yagona on the floor between them, and when the chief picked it up and the men clapped, we were in. We'd been advised that often the chief never speaks with you, but this one did exchange a few words with us about life in the United States, before we were ushered on our way. Sara was walked us around the extent of the village and we shook more hands and snapped more pix.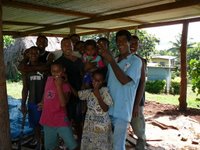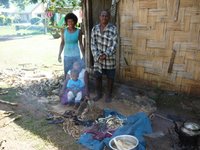 How one ever went cruising in the days before digital cameras, I cannot imagine. Everybody we met wanted their picture taken, and then to see it on the little screen. This was a wonderful development for me, because I am often too shy to ask to take pictures of people, and therefore never have them. Not so in Navigiri. I have dozens, and because the people are not self-conscious, every photo is beautiful.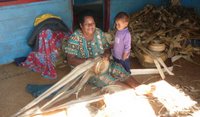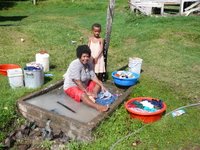 We met men building a house, people preparing pandanus for mat weaving, ladies doing the laundry under the shared spigot, and a couple peeling and cutting cassava for the big Sunday meal.

There were toddlers playing naked in a tub, and grandmothers sweeping the church. It was a busy place, but everybody took time for us! And, so, as you might expect, we will go back tomorrow for church. We said yes to the invitation once Don saw that the church had pews. He's not much for extended floor sitting.
When it was time to head back to the boat, we found that the outgoing tide had left the dinghy high and dry on the beach. We have a very heavy dinghy, I'm sorry to say, and the nifty wheels we were accustomed to using in Mexico, were back in a locker on the boat. Sara and a young boy each took a corner and helped us carry it in four stages out to the water. Even then, we had to walk it a fair distance, and paddle even farther before we could get the motor down halfway. Sadly, even that was too soon, and the prop caught an unseen rock, to become Don's afternoon project. I'm making banana bread to bring to the Sunday meal.
Katie and Chris of Billabong stayed here in Navigiri a month and the Convergence crew a week. I'm not sure we have that luxury, thanks to our slow start and our ambitious schedule. But tomorrow is church, and Monday we will visit the school and learn a bit about weaving mats, so for now, home is Navigiri.

This e-mail was delivered via satellite phone using GMN's XGate software.
Please be kind and keep your replies short.
Labels: Fiji 2007, Vanua Levu Circumnavigation