We've been taking a lot of grief about the lack of photos of Tackless II post paint job. Well, here she is in her glory.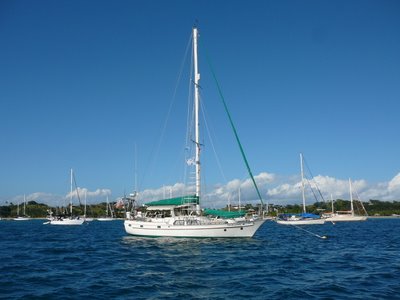 And here we are post paint job and pre-passage.
You can click on the pictures and they will blow up larger, and click again to magnify further. You may notice that the boat looks...well, pretty much the way she did before. The big difference is she looks that good all the way right up to touching distance! And, don't forget to note the new windows and new graphics.
The past two weeks have gone by in a blur. We are departing tomorrow, August 2 from Musket Cove to Vanuatu with the Island Cruising Association Rally. There will be seven boats in our group sailing to Port Resolution on Tanna Island and thirteen in the main group going to Asanvari on Maewo Island.
More details to come!
Labels: Fiji 2008, Musket Cove