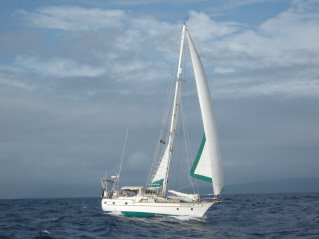 We left Banam Bay at 0630 in the benign glow of a gorgeous sunrise and empty blue sky. This bears mention because Malakula Island, downwind from volcanic Ambrym and all the particulate matter it dumps into the air, is inclined toward cloudiness. It seemed like an auspicious sign, and our first winds were decent, bringing a smooth ride, if close hauled.
But there was no getting away from the fact that our desired course line to Epi – southeast through the strait between Ambrym and Malakula – was dead into the wind, and all the wonders of the boatyard refit has not changed the fact that our beloved condo Tackless II is not a windward performer. So we were doomed to motorsail, but even motorsailing, thanks to tidal current, was problematic. During the hours the wind was with the tide, the ride was smooth, but headway was minimal. When the tide was with us, it was against the wind, so the short steep seas repeatedly knocked the snot out of momentum gained. We only had 25 miles to make to our planned staging anchorage on Epi Island, but for a while it was not looking good for getting there by dark. However, we eventually clawed our way far enough out of the straight that the boat began to sail more freely, and not only did we eventually tack our way over to Epi Island, but we did so with enough time to carry on past Lamen Bay (which was packed with boats) to a further anchorage.
Revolieu Bay is a pocket of water tucked behind a bracket of reef and fed by a dark river disgorging through black sand, and as we tacked in it was being misted by late afternoon showers and rainbows. Only two boats were there, and we knew both of them. No sooner was our hook down than Russ of Wandering Star, the boat we'd seen in Banam Bay, picked us up for a nice reunion cup of tea aboard La Boheme. With only an hour to sunset, it was a short reunion as all three boats planned to depart at or before first light for Efate.
Havana Harbor on the north side of Efate lay just sixty miles away on a bearing of 189 degrees, just west of due south. With easterlies, it would have been a grand sail, but full blown easterlies weren't in the forecast for four more days, by which time we'd be overdue for Vanuatu's 30-day immigration check-in. So we motorsailed again, but this time the wind, blowing 15-20, was thirty degrees off the bow instead of on the nose, so we had a lively ride albeit with plenty of water over the bows. As we neared our waypoint, the wind backed enough for us to shut down and sail the last hours in.
Havana Harbor is a huge bay framed by two small islands off Efate's north coast. It is reminiscent of Gorda Sound in the BVI, and during WWII it was a base for the US Navy. We anchored on its southern shore along with a clump of day charter boats and had a quiet night. In the morning, we raised sail and enjoyed an hour of idyllic sailing in twenty knots on Havana Harbor's protected waters, before popping out to bash around Efate's notorious Devil's Point.
On a better day, the huge bay that takes a bite out of Efate's southwest corner is probably a place for pleasant days sails, but for us it was a long hard motorsail to weather to get up to the smaller bay within the bay where perches Port Vila. We had heard so much about Port Vila as an oasis of civilization both before coming to Vanuatu and from all the boats that have already passed through that we pictured some sort of Shangri-la. As we passed through the outer buoys we passed a freighter at anchor on our left while off to the right was P&O cruise ship on the commercial wharf. Ahead to the left was the outer anchorage backed by the downtown area of Vila, while on the right, the small island of upscale Iriki Resort hid the inner mooring field. We followed the approach range almost to shore before turning right into the mooring basin. Along the shore was the sea wall with boats moored stern to, but, beyond, a field of some fifty or sixty densely-packed moorings wrapped around the backside of Iriki.
We had called for a mooring from Yachting World only to discover we'd arrived on election day and most everything was closed. Wandering Star, who'd been here several times before, opted to drop a hook in the outer anchorage, but our friends on Procyon hailed us and directed us to a mooring just vacated. There is nothing like entering a packed harbor area to make you realize how many boats you know. What was most peculiar is that it felt not just like Fiji transplanted, but Vuda Boatyard transplanted! There was Flight on the seawall and the big schooner Mundaca. The steel Kiwi boat Heartbeat, which had still been on the hard when we launched and left, was right there swinging at anchor, and Freedom Hunter, who shared bottom paint with us, was on mooring number one. Further on were several of our Musket Cove buds, including Procyon, Wind Pony, and Quantum Leap. And just to cap off the sense of déjà vu, a boat called Esprit, hearing us on the radio, called to ask if we were the same Tackless II that left Puerto Vallarta in 2004. The cruising world is a small one!
Port Vila has proved to be the sweet little oasis of civilization everyone says it is. It is a nice mix of islanders, ex-pats, tourists and cruisers. The downtown market is full of lovely vegetables with a French influence, and the supermarkets…well, La Bonne Marche is a cruising cook's wet dream. The main street is quite the mix of restaurants, cafes, souvenir shops, duty free stores, real estate agents and tour agents, and there's a steady stream of traffic, including mini-vans running as short stop busses…all driving on the right! France obviously won that battle!
And yet most of the people we have met are speaking English. Bislama, the official patois of the island chain, is more evident in posters and billboards, but it is close enough to English that you can slide by. The only French I've been called upon to speak was at the French consulate, and that was more because I wanted to practice.
Our main objective in getting back to Vila – besides cold beer and restaurant food – was to get our visas for Australia lined up. In the end, we did not go for the full bore one year visa because we might have been required us to get a lung x-ray for tuberculosis which was said to take weeks. Instead we went for the one year, multiple entry ETA (electronic travel authority) visa available on line. Since we anticipate flying out within three months (of a mid-November arrival), either to the States or to New Zealand, it answered all our needs. It also left us enough time us to apply for visas from the French consulate for New Caledonia. As US citizens we won't get the unlimited access to New Cal our EU and Kiwi buddies will get. Going into the Loyalties with the ICA rally will get us a full check-in, but we still would have been expected to get to the capital Noumea within one month. Having the visas will let us take up to three months to dawdle our way there, much as having the visas before arriving in the Marquesas gave us a full three months to dawdle our way to Papeete.
With the bureaucratic stuff out of the way, we now have to concentrate on the boat. We need to replace our main halyard and our furling line, for both of which we have spares, and Don is currently on the floor in the engine room replacing the fuel line from the tank to the engine, the culprit, we believe in the Perkins quitting a second time on us this morning. He is also being kept busy with watermaker calls, and we have sold off a lot of the Spectra parts we have been carrying. I also fear there are a few jobs for me with the sewing kit….
Events for the ICA Rally are scheduled to get going next Tuesday. There will be muster, and a briefing, a golf scramble and an excursion to a local watrfall. We'll have checkout and post check-out duty free topping up of liquids – diesel and alcohol! Departure for New Caledonia is targeted for Saturday the 13th.

This e-mail was delivered via satellite phone using GMN's XGate software.
Please be kind and keep your replies short.
Labels: Vanuatu