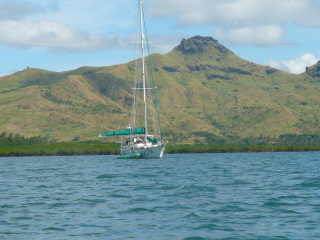 Just as we dropped the anchor in ten feet of water (at dead low tide), our radio squawked "Tackless II, Tackless II…Palmlea Base." Glancing over their panoramic front railing, Joe and Julie Smelser had noticed the top of our mast sticking up above the mangroves. With plans made to hike up for dinner, we set to tidying up the boat and having lunch.
The shoreline here, mangrove cloaked every bit of the way, extends another mile or so off the bow to a point around which is the wide expanse of Labasa Bay (pronounce Lambasa). Farther east, large mountains pile up in layers on the horizon, with a few islands extending the line into an arc to the NE. To the north are several low-lying islets, above which pokes the silhouette of tall Kia Island that stands like a lone soldier about twelve miles away in the great oxbow loop of the Great Sea Reef. No houses are visible, not even the teal roofs of our friends' resort. It is a pretty spot to sit, if more of an open roadstead, than the comfortable nook we usually think of as an anchorage. Fortunately, the prevailing winds come from the SE to E, and the little upturned tip of a point off the bow seems to be enough to keep our water nice and quiet.
In mid-afternoon, we looked to have enough water to get the dinghy to Joe and Julie's dock. So we headed in and walked the nice road they've built through the mangroves and up through the fields to Palmlea Lodge. I described Joe and Julies new resort previously in the update of our road trip over from Savusavu (May 15), but in the month since our visit, they have finished construction of the third bungalow, the trellised garden, added a generator and new water tanks, and the bougainvillea is well on its way to making the front hedge Julie desires.
We had finished our tour and were toasting (with that devil champagne!) our debut as the first yacht to visit Palmlea, when the phone in the office rang. It was Jim Bandy, the voice we have listened to for three seasons every morning on his SSB radio net called "The Rag of the Air" (8173 mHz @ 1900 UTC). Jim lives on an island near the NE tip of this coast, and we plan a stop there before we turn the corner. Of course at the rate we are going, that is still weeks away. Anyway, Jim was in Labasa bringing a friend to the airport and wondered if Palmlea's restaurant was open for dinner. Although the resort was not quite officially open yet, Joe had planned some local fish for the four of us. Fortunately, Joe has a habit of over-apportioning, so there was plenty to expand dinner for four to dinner for six.
For cruisers, meeting a radio voice is a little like meeting a celebrity, but Jim in person was nothing like we had imagined from his voice. We had pictured a crusty codger well into his social security years (often the case with radio net controllers), retired from cruising to his tropical island. Instead he was a trim, tanned man about Don's age, as was his friend Kurt from San Diego. From what we've put together from comments on the net, Jim has a boat building operation as well as one of the nascent virgin coconut oil processing setups, endeavors that he has undertaken almost as much from a missionary-like zeal to help the Fijian villagers as much as to support himself. We'll no doubt learn a lot more about it all when we visit, but he has been having a tough time lately with government red tape and a lack of dependability in his workers.
For an architect and builder, Joe is a mighty fine cook. He has studied the cuisines of all the countries he has lived and worked in, and he will be the supervising chef, if not the actual hands-on cook, for Palmlea's resort operation. Our meal was superb, an outstanding baked fish, what they call hereabouts a "coral trout", with sides of an eggplant medley and Tuscan roast potatoes. Over the meal we learned that Jim had once been a race car driver, which of course led to talk of the Indianapolis 500 ("Greatest Spectacle in Racing") and from there to motorcycles. Jim was not a Harley man, and Kurt rides a Big Dog. (I've seen the T-shirts, but never knew it was a bike!)
The evening lasted a lot longer than we'd planned, and when we got away to go home (after a debut walk down the hill in the dark!), we found the dinghy high and dry. @#$%#$@!!! Shades of Naviqiri! High and dry simply doesn't capture the reality of the muddy ooze and rock mix it was grounded on with about 40-50' to get to the water! The bugs were biting furiously, so no option now to sit tight and wait. We dragged the damn thing out one glopping foot at a time, bumping over rocks and losing our shoes every other step. I hate to think how we may have gouged the dinghy bottom. I've been afraid to look!

This e-mail was delivered via satellite phone using GMN's XGate software.
Please be kind and keep your replies short.
Labels: Fiji 2007, Palmlea Farms, Vanua Levu Circumnavigation