This past week has been a domestic work week. It is something we'd planned since our first visit by car when we realized that the climate was so much drier on this side of Vanua Levu. We would have an ideal situation to tackle Tackless II's cockpit woodwork. And after getting in all our play we would have no excuses or distractions.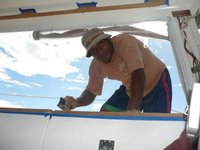 I say "we," but it is the royal "we." Varnishing is not one of my strong suits. Don's has done it all, from stripping to the final coat. He did borrow one of Joe's workers, an extremely shy man named Abeli, for a day of hand sanding help, but other than that it's been a one-man accomplishment. And an accomplishment it is. The cockpit looks gorgeous again.
Banished from getting anywhere near a wet surface, I spent the time below working on the computer writing emails, updating the Blog, and working on my column. The arrangement was productive all around.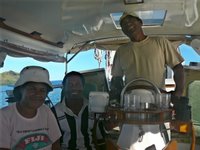 Ironically, we also had a steady stream of visitors, mostly during the prep phase. Joe's foreman, Siti, turns out to be a sailor. He once had a trimaran he sailed all around Fiji, and his goal for retirement is to build his own monohull to take off in. So he was very keen to see Tackless, and very impressed once he had. His interest sparked curiosity in many of the other staff, from the guys who have been building the little dock in the mangroves to the gals working in the lodge. Don and I were particularly impressed at the approving take of one of the ladies. "You've gotta go and see everything in life that you can."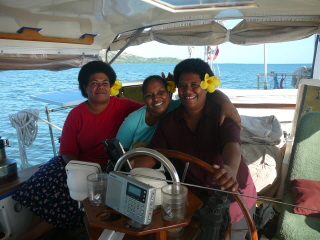 Plus Joe and Julie finally got out for a visit Sunday morning. We'd just done a massive clean-out of the forepeak, and had a pile of treasures (of the bilge), which they were happy to take from us.
In the evenings we've stayed home and watched videos. Joe has a huge collection, mostly from China at about fifty cents apiece. We've caught up on a lot of major flics we've missed these past years, but also found some unknown treasures in Aussie and Kiwi films.
Tomorrow, weather permitting (today we've had overcast, rain showers and wind), we plan to sail back down to Nukubati for a few days of diving. We'd been laboring under a misunderstanding that Joe had a dive operation lined up in the area they'd use for any guests who wanted to dive. It turns out that dive operation is Nukubati…the only dive operation on this side. We don't want to miss seeing a bit of the Great Sea Reef, so back we go.

This e-mail was delivered via satellite phone using GMN's XGate software.
Please be kind and keep your replies short.
Labels: Fiji 2007, Palmlea Farms, Vanua Levu Circumnavigation