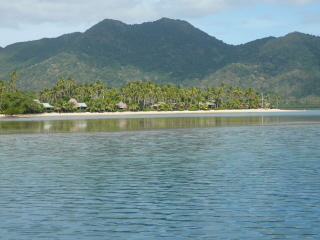 Pulling into Nukubati Bay felt like coming home. In our previous stay here, just two weeks ago, we had such a nice time and imprinted so strongly on the view of the mountain ridge over the resort, that the return almost brought tears to my eyes. To me, this is what the South Pacific is supposed to look like!
There were new guests, of course, another young American honeymoon couple with the place to themselves. This time the honeymooners weren't divers, so we wouldn't be competing for the dive boats. Or so we thought. Although we had called ahead and spoken with Jenny, we had a little miscommunication. She thought we were going to Kia Island first…because, well, we'd thought we might go to Kia first, and her boat and staff were committed to support a mooring installation project at the port of Malau near Labasa. So to our chagrin, we watched the dive boat whiz out of the resort at 7:30 am. Thanks to some mechanical issues, it didn't return until late the next day!
It may have been just as well, because on our first evening a gusty wind sprang up and blew hard the next several days! It blew so hard our second night there, tossing the palm fronds so hard that they sounded like rushing water, that Jenny insisted we stay ashore for dinner until it died down well after dark. As usual we had plenty to do. Don's success in the varnish department now spread to some small pieces that he'd bypassed in the first go round, and I tackled cleaning the bottom. Plus I'd borrowed from Jenny's library "A History of Fiji," by R.A. Derrick. Unfortunately, I only got halfway through – up to the mid-1800s -- before we left, but this very readable account of early Fiji – how the initial migrations likely happened, and how the people sorted out into the hierarchy of chiefs, warriors, "priests" and commoners (a hierarchy that persists to this day) and the constant posturing and battling between tribal city-states (usually started by intrigues in the chiefly class) -- revealed a lot about why Fiji is the way it is.
Diving on the Great Sea Reef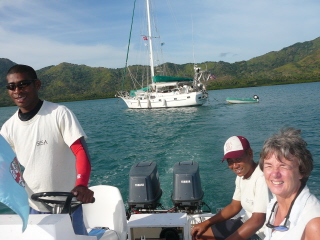 But finally, Friday rolled around with calm winds and high soft streaky clouds, and we were picked up in Nukubati's "aluminum inflatable' by Salote (Nukubati's boat woman) and Sisa our dive leader. Why we didn't start out in our dive suits I don't know, because the ride out was fast and wet. By the time we reached Ravi Ravi Pass and the outside of the Great Sea Reef 25 minutes later we were soaked, which made getting the suits on after the fact a struggle.
A little aside here: These boats have no GPS or chartplotter, yet Sisa piloted us out through the reefs in unbeaconed waters to the pass with no more than a few looks over his shoulder at the mountains behind! Very impressive.
The dive of the morning was called Fishmarket. Just around the outer reef from the pass, this steep outer reef bank started in about 30-40' feet of water and dropped away in a wall to depths only vaguely glimpsed. On the chart the depth contours suggest that the drop to 298 meters is close at hand! The visibility was superb, especially after weeks in the green waters near the shore, and we were quick to see why they called the dive "Fishmarket." Lots of large meaty-looking snappers and groupers in addition to plentiful tropicals and schools of boga with neon blue smears of their sides populate this reef, an exciting change from the seaward reef we dove in the Ha'apai last year, although the corals were not as pretty as that dive. Almost immediately, Sisa pointed out the first of four turtles, and Don sighted several whitetip sharks cruising below us, plus we were shadowed much of the dive by one large solitary batfish.. Like icing on the cake, the water at depth remained a balmy 81 degrees! Another improvement over that Ha'apai dive.
On the surface, Salote was having a rolly ride as she followed our bubbles, but she brought the boat right to us making our exit from the water as smooth as possible. We took our surface interval anchored in the shallows on the north side of the reef, enjoying the snacks the resort had provided along with their nice fluffy towels. Wow! It's mighty nice to be on the receiving end of such attentions!
Our second dive was a drift dive through Ravi Ravi Pass along its eastern side. The reef on our left presented a craggy face with hidey-holes for all sorts of creatures as well as some striking sea fans. Sisa promptly pointed out the cruising sharks, whitetips from small to large, and then turned his back to show us tiny white and blue nudibranchs on the coral no larger than an thumbnail! He was pleased to find two round stingrays – one small and one large in their holes at the base of the reef, and I was tickled by an even bigger ray ruffling overhead along the reef's upper edge. On this dive we saw many angelfish, the psychedelic regal angels, the handsome emperor angels, but also many large blue angels, which look like our gray Caribbean French angels only accented in blue rather than yellow! There were lots of parrotfish, some bi-color and some blue, including several large bumphead males. Everywhere, there were dusky surgeon fish and a larger fish like our durgons, as well as four or five different types of triggerfish. A highlight for me were the cave-lets in the reef providing protection for some elaborate growths of sea fans and gorgonians, the stuff that uw photographers fill the color pages of dive magazines with.
Our ride back into the afternoon wind was even wetter than our ride out. Don and I resorted to wearing our masks about half way which amused Salote and Sisa no end.
Nukubati Meke
We got back to Tackless II at about 1:30. We rinsed our gear, showered ourselves, ate some homemade veggie soup,…and promptly dozed off. What is it about diving that takes the starch right out of you? Still, by five we were up dressed and ready to go ashore for our "official" dinner ashore which just happened to be meke night.
Meke is the word for Fiji's traditional music and dance. At Nukubati, the staff gathers in the lodge in their flowered shirts and dresses for an evening that starts with the kava bowl before dinner and ends in an evening of song and dance. This was the evening that we missed during our last stay.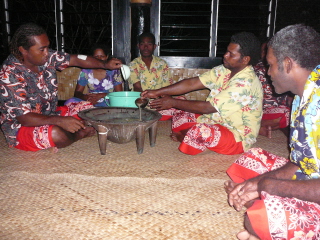 What a special night! As we sipped our cocktails and nibbled on the canapés and roasted coconut that are the nightly hors-d'oeuvres, the staff assembled on the spread mats and began making kava in Nukubati's large wooden tanoa, the traditional four-legged kava vessel. Several men with guitars and ukeleles began strumming a tune, and as more staff gathered they launched into a series of songs in multi-part harmony. When the kava was ready we were all invited to come for a "bowl". Although we had 'training" in the kava ceremony in one of Curly's cruising seminars in Savusavu, this was our first actual opportunity to participate. You can ask for "high tide" or "low tide" to select the size of the serving wanted. Because of the diving, I was abstaining from alcohol, so I took only a low tide taste. We managed to remember most of our training…one clap before receiving the cup and three claps of appreciation after. Although obviously this is done partly for the entertainment of the guests, Jenny insists that it takes place more for the pleasure and unity of her staff.
For which reason we "broke" for dinner to be served, so that the kitchen staff would be free to join the festivities. Dinner was something! For starters we had clams in seasoned coconut cream, followed by banana sorbet. The main course was mudcrabs in spicy black bean sauce. This is a helluva dish to try to eat at a table set witha white tablecloth and a full place setting of cutlery and glassware! Jenny sat with us, and we were a little self-conscious about the mess we were making cracking the pieces of crab and licking sauce off our fingers.
Unfortunately, I wasn't half way through dessert when I started having some kind of allergic reaction! Presumably it was due to all the shellfish, although that hasn't happened before, or perhaps to the tiny sip of kava before dinner. Although nobody could come up with Benadryl, Jenny did have a huge box of Kleenex in the ladies room, and so armed I was able to hang in for the after dinner dance.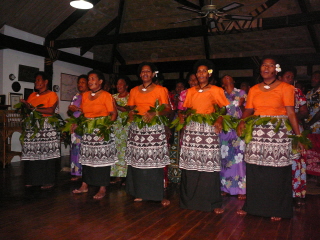 The after-dinner presentation was of a series of songs and chants done to the fevered drum beat produced by none-other than Salote, our boat woman, basically on a hollowed out log.. The staff was joined this evening by a group of "old ladies" from the village who'd come out to earn money for a church event by working in Jenny's gardens. Clearly everybody knew the songs, and the harmonies were taken up in full voice. Five costumed women performed a series of dances exhorted, as is traditional, by the men behind. Following the regular dances, three of the "old ladies" added a spontaneous comedy performance, apparently to a child's nursery rhyme to the hilarity of the Fijian staff. Like all the dances and songs, we outsiders are pretty lost as to the storyline, but it is fun none-the-less.
At the end of the performance, one of Jenny's staff made a pretty speech to the honeymooners, complete with humorous observations based on their stay. Imagine our surprise when she had some words for their sailor friends as well. It seems we've set a record among their repeating guests by returning to Nukubati in only two weeks!
Following the performance, the musicians returned to more popular songs, and staff members took turns getting the honeymooners out on the dance floor. No one asked either of us to dance, but we took a turn around the floor together on our own. Since the music has a bit of a reggae beat, we Caribbean sailors acquitted ourselves pretty well.
Checking Out
The next morning I tackled the second half of the bottom cleaning job while Don made the rounds with the Cetol brush putting on the next coat. We'd tidied up the boat for a possible visit by Jenny, but she had some family show up and couldn't make it out. Instead we went ashore to pay our bill, arriving just in time to be added to the lunch table. Jenny's guests included her transport driver plus her niece Sophie and husband Gary, both of whom work for Air Pacific in Nadi. It was illuminating to get to talk to some young professional Fijians, quite the contrast with the villagers and resort staff people we've mostly been meeting.
Departure was even harder this time, and I do think that Jenny has really come to think of us as friends. We certainly have come to feel that way about her, as well as many of the staff, and we will hold Nukubati in a special place in our hearts.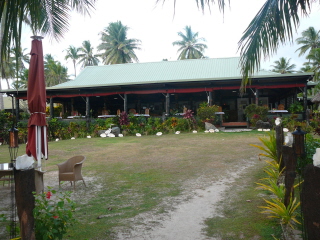 This e-mail was delivered via satellite phone using GMN's XGate software.
Please be kind and keep your replies short.
Labels: Diving, Fiji 2007, Vanua Levu Circumnavigation