It was our intent to go from Nukubati out to Kia Island. Kia looms on the northern horizon here as a Bali Hai-esque mountain thrusting up from the sea. It is the sole landmass in the horseshoe-shaped loop that the Great Sea Reef makes midway along its length. The island has three villages, which thanks to their distance from the mainland is said to be both more traditional as well as more excited to have visitors. It also puts a visiting sailboat much closer to the clear waters of the outer reef.
However, thanks to our delayed departure from Nukubati, the timing seemed tight to get out there before dusk on Saturday, and when we finally face up to a finally accounting of our remaining time available to cruise this area, we realize that we have got to get a move on back around to the other side. It is testimony to how much we have enjoyed the easy, laid-back cruising that this side of Vanua Levu has offered that we have so lost track of any sense of schedule.
But the schedule is there. We must take Tackless II out of Fiji sometime before the third week of August and make a passage to another country to be able to return and have another year here. And, as we know, only a fool leaves such a thing to the eleventh hour!
Plus we have a visitor coming. Our friend Bill Church – a friendship dating to Don's early days as a sailor in Clearwater – is flying in July 25th to both make the passage to Futuna with us and then, upon our return, to enjoy a little Fiji cruising on our way to the west side of Viti Levu. We, of course, are loading him up with lists of parts and pieces to stuff in his luggage for us, so it would probably be the tactful thing to do to actually be back in Savusavu when he arrives! Plus, we still have some sightseeing to do at Vanua Levu's Udu Point, Rabi Island, Taveuni, Qamea & Matagi Islands. Yes, it's time to get a move on, and it would almost as bad to give Kia short shrift as it will be to miss it altogether!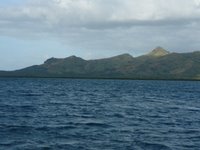 And so we followed our track back again to Palmlea, where we need to change out all the loaner movies, get fuel, reprovision, and take our leave.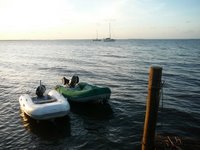 We dropped the hook as the sun sank into a mass of clouds on the western horizon. Imagine our surprise several hours later to see the nav lights of a sailboat approaching from the local pass. This boat turned out to be Stelite of NZ, with Peter and Faye aboard, along with David, a handsome young man from south Africa who crewed for them on the passage up from new Zealand. (Note: David is look for a crew position on a boat making the trip from Fiji to Capetown, South Africa or any part thereof. You can email him at davidwarnes@gmail.com. Peter and Faye said he was the best crew they've ever had.)

Peter and Faye met Joe and Julie in the same cruising season we did, but a little further along. They have built a fast friendship, with the Stelites making repeated visits to Palmlea to help with such things as solar powers systems and electrical stuff.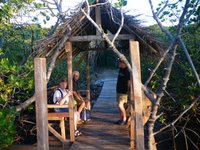 So Sunday was spent with lots of visiting: a fabulous breakfast with frittata and scones in the morning and a scrumptious lamb chop dinner last night. Peter and Faye are experienced commuters from New Zealand, and David is on the back end of a hitch-hiking circumnavigation. Unlike many such wandering crew, David actually seems to know a thing or two about sailing. His goal upon his return to South Africa is to get all the big-boat certifications and take himself off to the Med to work the yachting biz. As you might guess, this seasoned company of cruisers (Joe and Julie themselves have some 60,000 sea miles!) managed to generate a sea tale or two, and so the evening wore late!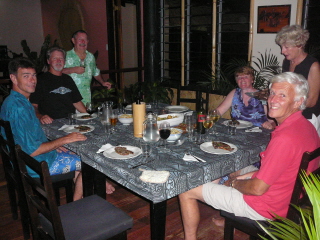 Don is in Labasa with Julie this morning getting fuel, propane and short-shopping veggies to carry us the rest of the way around Vanua Levu. We plan to be moving on Wednesday, after we get the propane tank back. Our next planned stops are a midway anchorage called Blackjack Bay followed by a visit to Also Island, the base of Jim Bandy, net control of The Rag of the Air SSB radio Net, whom we met here at Palmlea a few weeks ago. After that, we'll make our turn around Udu Point and sail back south.

This e-mail was delivered via satellite phone using GMN's XGate software.
Please be kind and keep your replies short.
Labels: Fiji 2007, Vanua Levu Circumnavigation